WUSTHOF making the Best Steak Knives Christmas 2013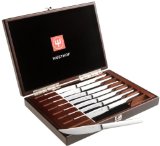 Been a while since I posted an update to this site, but a good steak out a restaurant the other night prompted me dust off a bit of steak knife research to see who's currently top of the game.
The top spot for most popular and best all-round steak knives is hotly contended for by a combination of Wusthof, Henckels, Victorinox, Shun and the iconic Laguille knives. The prices range dramatically depending on what sort of thing you're looking for, but there's always something for your budget.
Shun make some of the most beautiful kitchen and steak knives on the planet - hands down. Some of their kitchen knives range in to the hundreds of dollars, but by jove they are great to look at! Same with their steak knife collection. However, their price range can make them a little bit too out of reach for most people.
Wusthof, however, manage to walk the line between really great steak knives; well designed, beautifully balanced and super sharp and cost - especially when the likes of Amazon are able to offer such a good discount at this time of year! The knives come with a life time warranty which is as much testament to Wusthof's faith in the product as well as the engineering behind the product.
So, if you're looking for a great set of steak knives this Christmas, look no further!