The Top 5 Best Steak Knives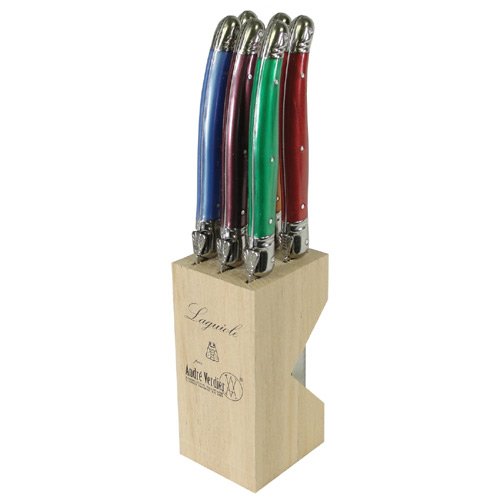 Click Here
In the run up to Christmas, there are a good few of us looking to steak knivest for a great gift for a family member or friend. I personally am looking at getting a new set of them for Christmas, so have been doing quite a lot of research (knowledge is power!) to try and find the best steak knives for my budget.
From looking around on Amazon, you can spend upwards of $250 on a set of 6 knives, but is a litle bit high for my budget - althought they do look really good! Much like kitchen knives, it is better to focus on quality rather than driving for the best price - there is always a balance to be reached between price and quality, but it can sometimes be hard to get it right.
The Best Steak Knives
So, without further ado, I present a list of the top 5 steak knives around at the moment - you can click on the title or image to go through to find out more information and to buy.

</td>

I didn't really want to start this list with a set of Laguiole steak knives, as they tend to be quite a bit more expensive than you need for a good cut. However, these acrylic handled set are considerably more affordable than their wooden handled versions.

Laguiole have been making steak knives for longer than I have been around, and they are the absolute peak of stylish knife if you are having a meal which requires them. A thoroughly good set of knives, and great overall presentation - and it doesn't break the bank.

</tr>

Chicago Cutlery is a US firm that has been making great kitchen and dining ware for some years now, and their products offer a great balance on old school industrial design and ergonomics that just works.

These are very much heavy duty steak knives that will get you through the most demanding of cuts, and for that reason I would tend to recommend these for the more regular steak eater. The blades here are - unusually for a steak knife - not serrated, so be careful of whatever you are cutting on that you do not damage the surface.

Overall a very strong set of knives that are pretty utalitarian.

Whilst we don't all need 6 steak knives (although it can't hurt), this set of 6 four-inch rosewood handled steak knives have a very traditional, old style bistro feel to them, and they are a real pleasure to use and eat with. They bring back feelings of being tucked up in a great Parisian bistro and tucking into some entrecote on a wet windy evening.

The knives come in a wooden block which is great for presentation, but will also keep the steak knives protected from the rough and tumble of being left out in a drawer on their own.

Whilst these are not the most iconic looking knives here for modern days, they should be considered timeless classics!

For those of you who don't know, Victornix are famous for the original swiss army knife and have been making quality cutlery and knives for nearly 200 years.

These steak knives combine a balance of traditional serrated knife blades with a more modern finish with the moulded plastic handles brining in a bit of modern day engineering practice. Whilst they can look pretty sinister, these knives are certain to impress if you are hosting a dinner party, and the full-tang scalloped blades will ensure that they can get through the most stubborn of meat cuts!

Great knives and for a great price - I think I will get a set of these myself for Christmas.

It would not be right to finish these top 5 steak knives list without a mention of the german powerhouse, Wusthof. This set of 4 "Classic Ikon" steak knives are truly beautiful to look at, and with Wusthof's reputation for producing amazing quality kitchen knives and blades, you can be sure that these are going to last you a good long time.

The blades on these steak knifes are not serrated, and are also particularly sharp, so you will need to be careful with the plate or whatever surface it is you are cutting on, because it's not just the steak they will cut through.

</tbody> </table>

Overall, there are some great steak knives above. If you have the money, I would go for the Laguiole or Wusthof knives just because they have good heritage behind them and will not disapoint. I haven't mentioned any JA Heckles Steak Knives here, but I will save that for another day!