The Kapoosh Knife Holder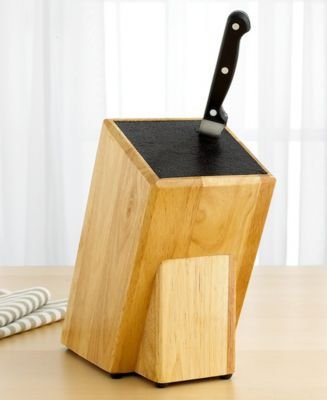 Click Here
This Kapoosh knife holder is going to be at the top of many a Christmas list this year. Not only is it exceptionally well designed, but very practical and functional as it allows you to store any number of different shaped and sized kitchen knives with a minimum of fuss. The tightly packed plastic rods inside the knife block keep all your knives in exactly the same position as you insert them, so you can order them by size, style of frequency of use without worrying about them moving about.
One thing to bear in mind - although it certainly should not put you off - is that the depth of these rods is only about eight inches, which means that some longer chefs knives will poke out a little more than is ideal, but if you are not too concerned about that, you should definitely be looking to get one of these blocks for your kitchen this year!
More Information
The Kapoosh knife holder is a unique new system to hold any knife any time, no need to find a specific slot to slide knife into. The Kapoosh utilizes fredom rods, which allow you to mix and match kitchen knives form different sets and to store practically any utensil easily - anywhere in the block. Plus the rods keep your knives sharper by eliminating the potential of scraping blades on the edges of traditional knife block sets. These rods are removable and dishwasher safe. Just place the freedom rods on the top rack of your dishwasher for cleaning. This Kapoosh has a woodgrain exterior.