The Best Measuring Spoons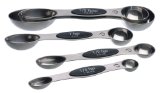 Click Here
There are two different schools of cooking - there are the cooks, and then there are the bakers. The former allows for more artistic flair and creative license, while the latter depends on exact, empirical measurements of all your ingredients. Quite simply, with baking, you can't wing it - you need to pay attention to you ingredients, otherwise that sponge cake is going to resemble more of a flat tire.
A key part of ensuring your ingredients are perfectly balance is having the right equipment - kitchen scales are essential, as are the ubiquitous measuring spoons and cups.
These magnetic, stainless steel measuring spoons from Progressive International are spot on for ensuring you get just the right amount of what you need. Their functional design allows them to be stored in a relatively small space, as the russian-doll style design means they all nestle in with each other, but separate out when you get full in to the baking zone.
The flat base means you can rest these spoons on the kitchen counter without spilling the contents - very useful if you realize you've forgotten an ingredient! They come in quarter, half and whole teaspoons as well as a half tablespoon and whole tablespoon - enough combinations to do what you need, but not too many it means you're flicking between similar sized spoons to get exactly the right one.
Of course, with any modern kitchen equipment, these are perfectly safe in the dishwasher to get them out the way and cleaned up as quickly as possible. They also have easy grip handles, meaning they won't slip away from sticky or slippery fingers mid baking!
Progressive International make some great, functional and attractive kitchenware - they have been doing their thing since 1973, so have become a highly trusted household name.
If you are looking for some new measuring spoons, then look no further!