The Best Kitchen Bread Knife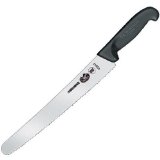 Click Here
Bread knives are - by quite a long way - the least interesting knife in the kitchen. They are pretty restricted in what they can do (cut bread), and are often relegated to the kitchen drawer whilst all your other kitchen knives stand proud in a nice wooden block.
However, for those heavily involved in bread, you will appreciate the need for a good, long, sharp bread knife that can tackle the same challenges over and over again without breaking a sweat.
This Victorinox Curved Blade bread knife is one such knife. Featuring a ten and a quarter inch blade that is 1.25 inches thick where it meets the handle, this high quality bread knife is forged out of high carbon stainless steel and is finished off by hand at the Victorinox HQ in Switzerland. Quite honestly, Victorinox have been making knives for a long, long time, and their blades - whilst not the most expensive - are some of the most robust we have seen here on this site.
One shortcoming of many kitchen knives (that are serrated) is how they start to blunt after a period of use, and there are not really any clear cut ways of resharpening them. This Victorinox bread knife, however, features a specially designed wavy edge knife blade that provides 40% more cutting edge to the bread - this means that the knife edge teeth are less exposed to cutting so they will last longer, but they are also slightly scalloped so it can be resharpened whenever you please, which will extend the life of it considerably.
As will all kitchen knives here on Kitchen Knife Review we strongly advise that you HAND WASH this bread knife, as the constant battering of salts on the blade edge will accelerate the dulling and blunting of the knife, meaning you'll be buying a new one much quicker than you'd have hoped for!
A really great bread knife here from Victorinox, definitely worth checking out if you are in the market for one (or even if you're not!).