The Best Egg Fry Pan For 2011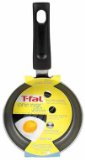 Click Here
I have previously been somewhat skeptical of frying pans dedicated to only one job, but I have gradually come to the realization that if you are join to have a frying pan to only do one job, then it would be to fry an egg. Of course, you then get in to dangerous territory ("treading on egg shells") because why not have a frying pan just for frying two eggs, or maybe four at a time to feed a family?
Regardless of that, this One Egg Wonder Pan from Tefal is a great little addition to any kitchen - I suppose you could get yourself two to cover your bases. It features Tefal's famous non-stick coating on the inside and out (ready: easy to clean, too!), and it is designed to perfectly fit one fried egg. Of course they are not overly specific about what size of fried egg fits best, but I assume it'll do just fine with a medium to large egg.
Although we admire Tefal here at Kitchen Knife Review, we do have to admit that this product could quite possibly have been produced by any number of kitchenware manufacturers, but it was probably just that Tefal got in their first. Of course, the company does have a great track record of producing long lasting non-stick surfaces, which is one of the main criteria for a frying pan to excel at if it is going to be frying eggs!
Certainly not a must-have for any kitchen here, but if you find yourself doing one or two fried eggs in the week, it will make your life a lot easier, minimize on washing up and will take less of your time to actually look after and nurture the frying process.