The Best Digital Food Scale In 2011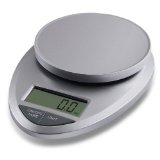 Click Here
Kitchen scales used to be a thing of beauty and good standing in a kitchen - they would wait proudly in the corner for you to put something in one side and fiddle around with countless tiny weights until you get a rough measurement of what you were looking for. Times have moved on somewhat now, and whilst I still like to keep a trusty weight-based kitchen scales around in the kitchen, I also recognise the need for more accurate measurements on smaller foodstuffs and weights.
That's where the digital food scales come in, which are basically small, computer powered kitchen gadgets that can give you a lot more accuracy when measuring our your ingredients. One major advantage of this is, of course, that it can switch between grams, ounces, pounds and kilograms. Whilst this isn't good for our mental arithmetic, it is great news for making sure your baking turns out as it should.
Originally branded as a weight loss and calorie counting aid for those trying to lose weight, this EatSmart Precision Pro Digital Kitchen Scale has generated quite a name for itself across all demographics around the world.
It is accurate down to the 1 gram mark (or 0.05 ounces), which is more than enough for any cook and chef, no matter how closely they are counting calories.
One of the big wins for me, though, is that this digital food scale (and of course, many other new fangled kitchen scales) is small enough to go in a drawer or just tucked away inside a cupboard - it does not need the large footprint demanded by the old school kitchen weighing scales!
So, if you need accurate and compact kitchen scales, definitely give this EatSmart Precision Pro a closer look.