Some Of The Best Kitchen Knives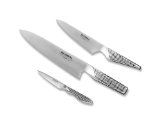 Click Here
I thought I would take the time and ouline some of my top 5 favorite kitchen knives of all time. Whilst this list is obviously my own opinion, it may help others decide which kitchen knife might suit them, or which knives would be a good present for a family member or friend.


| | |
| --- | --- |
| | Global are often regarded as the manufacturer of some of the best kitchen knives in the world. Most of their products and knives have a very distinctive Japanese styling to them - largely because the company IS Japanese. Many other forgers have attempted to mimic Japanese knife styles in the West, but here we see a Japanese knife forger who is really well regarded on the international stage. This three piece knife set from Global is one of the best you can buy for the money. It features a vegetable/paring knife and a medium and large chef's knife, which I frequently say are the essential knives for any kitchen. |
| | I find - when it comes to chef's knives - that 6 inches is a great size for it to double up as a very suitable general purpose utility knife. It means you can do more delicate operations as well as the more heavy duty chopping and slicing. This Twin Four Star 6 inch chef's knife is quite simply one of the best chef's knives you can own. J. A. Henckels has a great track record at forging very high quality knives in Europe and the US, and this individually sold chef's knife is no exception. I personally have a set of Henckles (though the Professional S series, not these more expensive Four Star), and will probably stick with them for life. |
| | Shun make some great knives that follow a pretty strict Japanese styling mantra. This somewhat small-by-comparison utility knife is not going to suit everyone and all kitchens, but there are quite often tasks for which a utility knife and the serrated edge is perfect. I have included this knife here, in a top 5 list, because I love the style and build of this kitchen knife. People may not agree that it is one of the worlds best, but it really is a beautiful - and very functional knife - to look at and use. |
| | Wusthof are another German knife forger (along with Henckels) that produce some amazing quality kitchen knives - some of the best knives in the world - but more often and not the price tag matches. Whilst I have included a set of three Global knives at the top of this list, I wanted to showcase this individual 8 inch chef's knife. It can be considered a medium sized chef's knife, and is a kitchen knife that will never let you down. By never, I mean it - the quality, reliability and sharpness of Wusthof knives is pretty much second to none. So whilst they may come with a bit of a price tag, they are a truly great knife. |
| | Victorinox make some very good kitchen knives, but I know a lot of people have a love hate relationship with them. They are often synonymous in the kitchen with small utility knives, and that association probably stems from their heritage of making Swiss Army Knives. However, in recent years their Kitchen Knife offering has upped its game, and this 10 inch chef's knife is an implement not to be reckoned with. I personally prefer using a chef's knife more in the scale of 8 inches, but this 10 incher is one of the best kitchen knives for the price, and will really get the job done! Whilst it may not be as high end as the Shun or Wusthof knives featured here, it has to be in the ranking because it is more affordable by far than some of the higher end knives on this page. Definitely a great knife. |
So, with that, go forth and buy your loved one a shiny present from Christmas, and get them one of the best kitchen knives in the world!