Presto Pro Eversharp Electric Knife Sharpener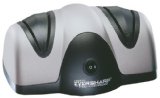 Click Here
Traditionally I have always been a fan of the manual knife sharpener - you know, like using a good old sharpening steel. More recently, however, I have faced the reality that you can actually blunt your kitchen knife blades if you do not work them down the steel at roughly the right angle, and I felt the sharpening steel I was using was not really that effective.
Around Christmas I got my first pull through knife sharpener - I think it was an AnySharp, and I am loving it so far. The only potential down side with it is that it can potentially wear away the steel of your knives quicker than you might like.
It is because of this that I am starting to think about getting an electric knife sharpener, and this Presto Electric EverSharp looks like a great model to start on. Because of the rate at which the sharpening elements spin round, you do not actually have to apply nearly as much pressure the knife blade to get it sharp, and thus you are not eroding as much of the blade as you might do with a pull through sharpener.
It has got some pretty good reviews at the moment over at Amazon, so if you are looking for a new kitchen knife sharpener, then you may want to check this one out…