Best Chefs Knives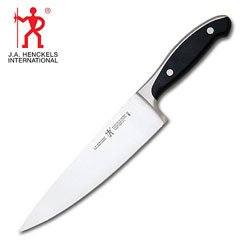 Click Here
This Christmas a lot of us will be digging into our pockets and buying our loved ones - or at least those who love cooking - a brand new, shiny chef's knife to fill a stocking. The chef's knife is one of the most essential tools in the arsenal of any cook - it is versatile enough to do big tasks and little intricate work time after time, and there is nothing like getting your hands on your trusty companion when the pressure is on in the kitchen.
I have taken a bit of time to put together a list of some of the best chef's knives on the market at the moment, so you can see which one you might be interested in. You can click on the picture or the links and head over to Amazon if you are looking to buy; they generally offer the best prices.
I personally use Henckels knives, so I am probably a little bit biased towards them. These Syngery knives are a really great series, and they look fantastic to boot. Combining a very modern all-steel body and a moudled rubber handle, and the whole thing has a brused stainless steel finish.

These knives do not break the bank, either - although they are still quite expensive if you are not used to high end kitchen knives. There are certainly more expensive knives on the market, but I honestly believe that Henckles offers some of the best knives around.

I love Victorinox for making great kitchen knives that are affordable for most people. Give my distaste for cheap [kitchen knives](http://www.kitchenknifereview.info/) which fall apart and are no good, Victorinox produce really good quality knives at significantly lower prices that many of their competitors.

This anniversary edition chef's knife is 8 inches long and has a moudled handle and a patented finger guard to keep your digits out the way of the blade. This knife has a very good balance and weighting and a very well shaped blade, meaning you can get through your work in the kitchen a lot quicker!

Wusthof has been making the finest knives in the world for over 190 years. Made by skilled craftsman in Solingen Germany these fine Grand Prix 2 knives are precision forged out a single piece of the finest steel. This Grand Prix 2 8" Hollow ground Cooks knife is the work horse of knives. This knife cuts, chops and slices. The Hollow ground edge cuts with less friction allow for clean less agressive cuts. This edge also causes air pockets to form while cutting allow for moist foods to release easily from the blade edge.

OXO Good Grips Professional Cutlery features the perfect balance of professional quality cutting with soft, comfortable grip. Sharp, stainless steel blades are hardened for strength and the blades are full-tang for durability and proper balance. Soft, non-slip handles cushion your hands and provide a safe secure grip.