Work Sharp Review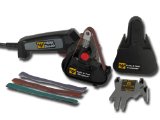 Click Here
This Work Sharp knife sharpener is a bit of a new kid on the block in the knife sharpening world (at least to us), and it comes with so many different knife sharpening options and combinations, you'll probably be spending a good while working out how to operate it.
Quite literally, this thing is able to sharpen every knife - or anything you have with a blade - to a finely ground razor edge. It is not restricted to kitchen knives, although obviously it is that which we are most interested in. The Work Sharp comes with a kitchen knife sharpener attachement which sharpens blades at 40 degrees.
This kit will also make sharpening your kitchen shears a doddle, as well as scissors and gardening tools.
The Work Sharp "WSKTS" is getting some pretty hot reviews at the moment, and it is pretty fairly priced for such a flexible product.